So Many people have enjoyed pictures of my smoothie bowls on my Instagram, so here is the recipe.
There are a lot things I make well, and there are things I stand in the kitchen with a drink and watch. Anyway together we make a great team!!
Ingredients are as follows:
1 cup mangoes,
2 bananas,
2 cups strawberries,
1 handful spinach,
4 scoops super Greens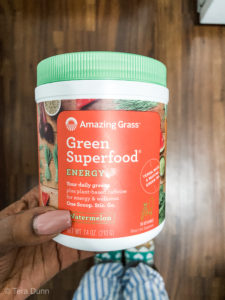 1 cup water to start add more as needed,
1 acai packet
You then blend these things together in a blender with a lot of power.(we love the Nutribullet)
Toppings include:
fresh fruit (I love strawberries, blueberries, and blackberries)
sliced almonds
chia seeds
Pepita aka pumpkin seeds
dark chocolate chips
coconut shavings
granola can also be used but I don't like it in mine.
This should be enough for two people and the leftover can be given to a baby of 6 months or older without toppings or with the soft ones if you'd like. (my toddler loves these)
if you are watching your calories it's about 560 per serving of 2
~fats 26 grams
~carbs 70 grams
~protein 18 grams
Go nuts on the toppings they're the best part!! Design as you wish and enjoy!
Try it and let me know what you think!
xoxo,
Tera Dunn