Despite just having a baby and hormones all over the place I have gotten compliments on my skin. I thought about it and it's great to know that my skin care regiment pays off.
1. First I wash my face and neck a with cleansing but NOT drying cleanser.
I use La Mer's Cleansing Foam it's super creamy with a polishing element. It leaves my face feeling super clean but not dried out.
Now, for 4.2 fl. oz. at $90 dollars it might not be your jam, but do not fret because there's an alternative cleanser called Checks and Balances made by Origins, to me has the same consistency and feeling on the face and at 5 fl. oz it's only $22. Basically, this is a splurge or steal situation but this is the only product on this list that is interchangeable in my opinion.
2. Next, about 3 times a week I exfoliate. I really like Never A Dull Moment skin brightening polisher with fruit extracts by Origins. The way this works is, you spread it over your face, let it sit for a few minutes so the fruit extracts can work on the face, then you gently massage it a circular motion, and rinse with warm water.
3. The next step I use the Treatment lotion from La Mer, it helps with tone and texture and allows the next steps of your regiment to work so much better. A great way to make this product last is to pour a little on your finger tips as opposed to using a cotton ball, a cotton ball will soak up more than you need.
4. SERUMS are really important!! Fact, 80% of our sun damage happens before the age of 18. Serums are great for reversing the "look" of aging. There are so many amazing serums out there, right now I'm into the Lifting contour serum from La Mer because it firms the skin, making the face look slimmer.
5. Then there is an eye cream. The Eye Concentrate from La Mer is amazing for dark circles, I feel like I was born with dark circles. Concealer is fine but being able to leave the house with no make-up and feel pretty still is priceless.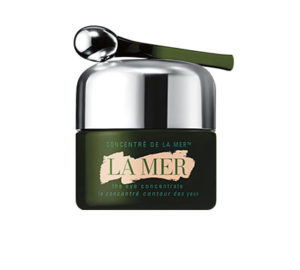 6. Lastly, there is the moisturizer, I use Creme de la Mer. This is actually the first thing I ever used from this from this line, I was hooked. What I like is how moisture rich it is, I was pregnant during the winter; truly a lifesaver. The only thing about this moisturizer is you must rub it between your fingers first, then pat it into your skin.
*Bonus products…. I stumbled upon this retinol deep wrinkle filler from CVS drug store www.cvs.com This is a total steal because it's like botox in a tube. I use it after the treatment lotion by dabbing a little on my forehead. The reason I didn't include it on top was because of the fact you shouldn't use retinal when you are pregnant so I didn't. I have since begun using it again.
Also, I do not work for La Mer. I've used these products for about 3 or 4 years and they work for me. To learn more go to http://www.cremedelamer.com